Sitting pretty at the top of the chart in its second week of play, The Revenant resisted the challenge of all the weekend's new releases, variously starring Ice Cube, Kevin Hart, Steve Carell, Christian Bale, Ryan Gosling, Brad Pitt, Sandra Bullock and Chloë Grace Moretz.
Declining only 24% from its opening weekend, with second-weekend takings of £3.86m, The Revenant has reached a muscular £12.01m after just ten days on release. Fellow 2016 best picture Oscar nominees The Martian and Mad Max: Fury Road grossed £3.85m and £2.64m respectively in their second weekends. Totals on those titles after two weekends stood at £13.21m and £9.69m, but both had enjoyed an extra day of play due to a Thursday opening.
With The Revenant certain to remain very much part of the awards conversation through to the Baftas on 14 February and the Oscars on 28 February 28, box-office is likely to continue a relatively gentle descent. A total above £20m looks highly probable. DiCaprio's last film The Wolf of Wall Street grossed £22.7m in the UK. His biggest hit, Titanic, earned £80.1m including the 3D re-release, and Inception managed £35.8m.
The mainstream challenger: Ride Along 2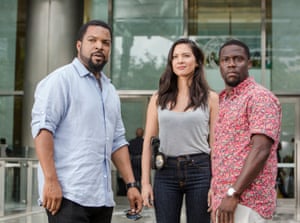 When Ride Along opened in February 2014, UK distributor Universal was delighted with an opening session of £1.42m, confirming Kevin Hart as a proven box-office star in this market. Now, with Ride Along 2, Hart's UK star status solidifies, thanks to an improved debut of £2.14m, a 51% rise on its predecessor. Ride Along, which teams him with Ice Cube, is so far proving Hart's most popular property. Last year, The Wedding Ringer began with £990,000 including £164,000 in previews. Get Hard did better, kicking off with £1.44m, although co-star Will Ferrell must take a chunk of credit for that number.
The fresh awards contender: The Big Short
Another weekend, another major Oscar contender, with The Big Short arriving in UK cinemas last Friday. An adaptation of Michael Lewis' non-fiction book about the 2008 financial crisis doesn't immediately suggest itself as big box-office, and previous films with similar themes – including Margin Call and Arbitrage – were commercially modest. But an energetic comedic treatment by director Adam McKay (Anchorman) and a starry cast have helped punch The Big Short through to audiences, as have mostly positive reviews (81/100 at MetaCritic) and five Oscar nominations including for best picture, best director, and best supporting actor for Christian Bale; resulting in a UK debut of £1.30m. Sunday takings were well ahead of Friday's, which is unusual for a non-family film. The Big Short scooped the big prize, the Darryl F Zanuck Award, at the Producers Guild Awards in Los Angeles on Saturday night, but it seems rather unlikely that this win could have had much of an effect on Sunday takings in the UK. More plausibly, the film is simply enjoying strong word of mouth, as shown by an IMDb user rating of 8.0/10. The PGA win puts The Big Short right back in contention for a major Oscar win, reining in The Revenant which had begun to look like the runaway winner.
Read More….