Returning to the top spot in its third week of release, Captain America: The Winter Soldier adds £3.69m in the last seven days, for a 19-day total of £14.62m. That's enough to put it past the lifetime totals of the original Captain America film (£9.48m) and the first Thor picture (£14.04m). Films in the Marvel Avengers universe have now spent a total of 16 weeks at the summit of the UK box office (not counting Hulk or The Incredible Hulk), grossing a collective £185m.
This is only the second time so far this year that a film has topped the chart with takings of less than £2m – or the third time if Need for Speed's preview takings are discounted from its opening tally of £2.01m. The other instance was The Grand Budapest Hotel nabbing the top spot in its third week of play, where it faced an exceptionally weak field of new releases. It's likely that all films in the market were affected by sunny skies across much of the UK. Families with long Easter holidays to fill, in particular, may have postponed cinema visits until cloudier days materialise.
The genre contender
With Rio 2, Noah and Divergent all hitting cinemas the previous weekend in time for the Easter school holiday, and The Amazing Spider-Man 2 arriving imminently, cinemas paused for breath in the session just ended, with a relatively niche set of new entrants. Hammer followed up its smash The Woman in Black with the more low-key, 1974-set The Quiet Ones, featuring mid-level cast Sam Claflin, Jared Harris and Olivia Cooke. An OK £681,000 debut from a wide 397 screens, including £113,000 in previews, resulted. The Woman in Black began in February 2012 with a much more muscular £3.15m, but that film had much stronger marketable elements, including the Susan Hill source material and star Daniel Radcliffe fresh from Harry Potter glories.
The local hit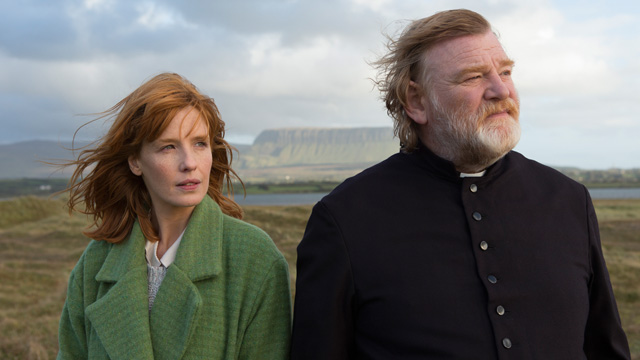 Link to video: Calvary: watch Brendan Gleeson in the exclusive first trailer for The Guard director John Michael McDonagh's new film
Landing a couple of places behind The Quiet Ones, Calvary kicks off with a solid £571,000 from 150 sites, yielding the highest screen average (£3,810) of any film on release. It's worth noting that a big chunk of that total – €357,000 (£295,000) – comes from cinemas in Ireland, where Calvary delivered the third-biggest opening of the year. (Irish takings are reported by data collectors Rentrak together with the UK as a single territory.)
Comparisons with John Michael McDonagh's previous film The Guard are tricky, since that film enjoyed a staggered release, debuting in Ireland only with £474,000 from 71 cinemas, including £72,000 in previews, and then six weeks later in the UK with £164,000 from 60 venues. By that time, the Irish gross was already up to £3.34m.
Read More…