Whichever way you look at it, The Amazing Spider-Man 2 has just posted the biggest opening of 2014. Including previews from Wednesday and Thursday last week, the superhero sequel has earned five-day takings of £9.01m, which is ahead of The Lego Movie's previews-inclusive opening tally of £8.05m. Strip out the previews, and The Amazing Spider-Man 2 comes in at £6.13m, which compares with Lego's £5.9m over the Friday-to-Sunday period.
The official weekend box-office chart does not include takings for Easter Monday. However, distributor Sony reports these as £1.72m, taking Spidey's total to £10.73m for the six days.
Back in July 2012, the first Amazing Spider-Man film opened with £11.09m, including three days' worth of previews, totalling £4.36m. That six-day figure is very similar to the sequel's tally over the same period, also including Easter Monday. The first Amazing Spider-Man rapidly faced stiff competition from the likes of The Dark Knight Rises, and ended up with £26m here. With significantly less blockbuster competition in the offing, Sony will be hoping that Amazing Spider-Man 2 will show sturdier legs, pushing up towards £30m. On the other hand, most kids are now back at school, which will limit the film midweek to primarily adult audiences.
Among existing films in the market, The Amazing Spider-Man 2 had the strongest impact on Captain America: The Winter Soldier, which falls a hefty 53% from the previous weekend. But its gross of £16.75m so far is well ahead of the £9.48m achieved here by the first Captain America.
The runner-up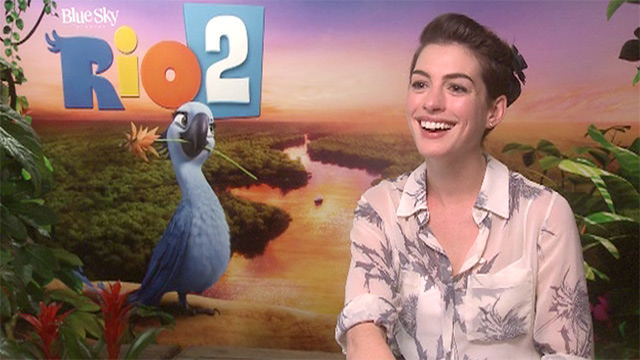 Link to video: Anne Hathaway on Rio 2: 'You're jumping around like an idiot trying to make it sound good'
Moving up a place to second position, Rio 2 declined a relatively slim 27% from the previous weekend, and has added a nifty £3.03m over the past seven days. Weekend takings only contributed £1.13m of that total, meaning that the film performed particularly impressively on weekdays last week, in the run-up to Good Friday. School holidays and animation make happy bedfellows for UK cinemas. The original Rio film stood at £8.02m after three weeks of play, compared with £9.79m for Rio 2 currently, a disparity that should give distributor Fox encouragement.
Read More