Storming the charts with a stonking £8.45m, Bad Neighbours confirms the commercial potency of an appealingly assembled raucous comedy. Not even the fact that a substantial £5.16m of that sum comes from a marathon six days of previews can dent the euphoria the studio must feel.
Among previews-inclusive opening tallies, Bad Neighbours ranks second for 2014, behind The Amazing Spider-Man 2. Going just by Friday-to-Sunday takings of £3.29m, Bad Neighbours is much further down the 2014 league table, behind The Lego Movie, Captain America: The Winter Soldier and The Wolf of Wall Street.
Among comedies featuring Seth Rogen, Bad Neighbours compares favourably with a £1.59m debut for Knocked Up and £1.45m for Superbad, both from 2007. A year later, Pineapple Express debuted with £1.37m (including £132,000 in previews), and This Is the End kicked off last summer with £1.39m. Even after discounting the hefty previews from Bad Neighbours, it opened with double the takings of those previous Rogen comedies. It's a particular boost for the actor, because he is one of the three lead producers on the film (he was joined by Evan Goldberg, with whom he wrote the likes of Superbad and Pineapple Express).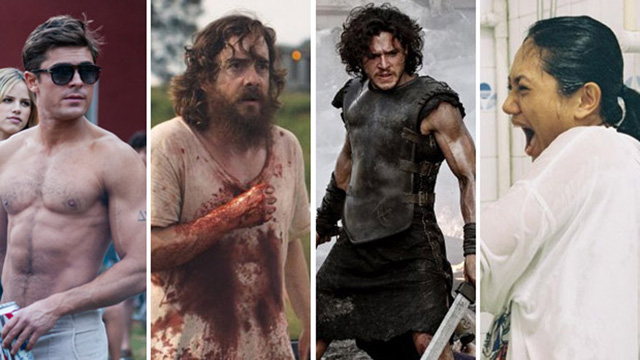 Link to video: The Guardian Film Show: Pompeii, Bad Neighbours, Blue Ruin and Ilo Ilo
Moving beyond the pool of titles starring Rogen, 15-rated comedy Ted opened even stronger than Bad Neighbours, with £9.33m (including £3.40m in previews). In 2009, The Hangover kicked off with £3.19m (including £444,000 in previews).
The success of Bad Neighbours may prompt reflection at its backers, going by comments made by Seth Rogen to Variety at the SXSW festival. After Universal bought the pitch in 2011 and Nick Stoller signed on to direct, the film's progress through the executive ranks was slower than anticipated. "It seemed like we were going to enter development hell," said Rogen. "We went into a phone call that we thought was going to be our green light, and we got a bunch of notes. We went back to the studio and said, 'What is the amount of money we can make this for where we stop having these conversations?'" The budget was then chopped in half to $18m. If a film succeeds wildly beyond expectations as a result of studio executives being sidelined in the creative process, it's certainly one for them to ponder.
The misfire
With previews-inclusive total of Bad Neighbours representing more than all the other films on release put together brought in at the weekend, it's no surprise to see weak numbers among the chasing pack. Sabotage, the only other new title released on more than 200 screens, landed limply in seventh place with £301,000 from 336 sites (including £64,000 in previews).
David Ayer's previous film as director was End of Watch, starring Jake Gyllenhaal, Michael Peña and Anna Kendrick, which debuted in 2012 with £619,000 (including £26,000 in previews). Sabotage looked to build on that success with an interesting ensemble cast, including Olivia Williams, Sam Worthington, Joe Manganiello, Terrence Howard, Mireille Enos, Josh Holloway and Harold Perrineau. Adding Arnold Schwarzenegger to the mix in the starring role may have proved counterproductive, alienating audiences who enjoyed End of Watch.