Delivering the biggest opening weekend since The Inbetweeners 2 back in early August, Gone Girl has injected some much-needed heat into the market. Debuting with £4.11m, including £416,000 in previews, the result is more or less exactly in line with the US opening of $37.5m.
Director David Fincher's last film, The Girl with the Dragon Tattoo, began with £4.32m over new year weekend 2011/12, although this was in fact a seven-day figure, including grosses from Boxing Day onwards. Its actual weekend gross was £1.57m, against £3.59m for Gone Girl over the Friday-to-Sunday period. Before that, The Social Network debuted with £2.49m, including £383,000 in previews. Ignoring previews, Gone Girl has delivered the biggest ever opening for a Fincher film.
Although Hollywood has delivered blockbuster hits from young adult novels such as Harry Potter, Twilight and The Hunger Games, and has produced big numbers from beloved classics such as The Lord of the Rings, Alice in Wonderland and Chronicles of Narnia, major hits from contemporary adult fiction have been few and far between lately. Gillian Flynn's twisty bestseller presented a rare opportunity – one that the makers of Fifty Shades of Grey will be hoping to repeat next year.
Over the three-day weekend, top site for Gone Girl was Vue Westfield in west London with an amazing £69,000, followed by Odeon Leicester Square with £58,000. The top cinema outside London was Cineworld Glasgow Renfrew Street. Among indie/arthouse sites, the top performer was Ritzy Brixton with £25,400, followed by Curzon Chelsea and Clapham Picturehouse.
The runner-up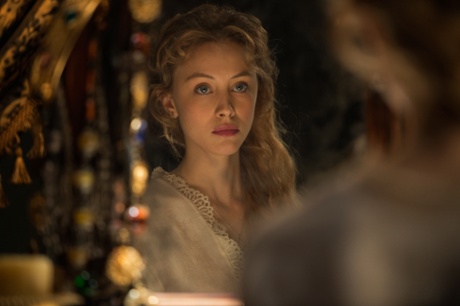 Little-seen by critics until week of release, and seemingly lacking in strong marketable names, Dracula Untold looked very far from a sure thing. So distributor Universal should be more than happy with an opening of £1.71m. That's a long way behind the debut of Van Helsing in May 2004 (£5.43m including previews of £485,000), although that was a much-hyped creature feature combining several literary legends and toplined by A-lister Hugh Jackman. Dracula Untold is directed by commercials helmer Gary Shore, making his feature debut, and stars Luke Evans and Dominic Cooper. The budget is reported to be $100m. The film currently enjoys a critics' Metascore of 34/100 and an IMDb user rating of 6.4/10.