With a three-day opening of £9.75m, The Hobbit: The Battle of the Five Armies achieved the second-biggest weekend of 2014, behind The Hunger Games: Mockingjay Part 1 (£10.32m plus £2.33m in previews). The Inbetweeners 2 debuted with £12.54m, but that included £4.49m in previews, which means it grossed £8.05m over the actual Friday-to-Sunday period.
Five Armies has opened 4% ahead of the previous Hobbit film, The Desolation of Smaug (£9.33m). The first in the series, An Unexpected Journey, kicked off with £9.51m plus £2.09m in previews – Five Armies is around 2% ahead, on a like-for-like comparison.
The final Harry Potter film, Deathly Hallows – Part 2, saw a huge rise in box-office when compared to its immediate predecessor – or compared to any other Potter film, in fact. Deathly Hallows – Part 2 achieved a franchise best with £73.09m. Average for the other seven films in the franchise is £52.75m.
With Twilight, grosses surged from the first (£11.21m) to the second film (£27.55m) and then climbed steadily with the third (£29.84m), fourth (£31.06m) and fifth (£35.88m). Based on both these literary franchises, you'd expect an uptick for the final Hobbit.
An even more apt comparison, of course, would be Peter Jackson's Lord of the Rings trilogy, which saw its best result with the first film (£63.01m) and its worst with the second (£57.63m). Series finale The Return of the King landed in the middle with £61.06m.
With the Hobbit, Smaug's final tally of £42.92m was a big drop on Unexpected Journey's £52.33m, so backers New Line/Warners will be hoping that Five Armies will follow the pattern set by Lord of the Rings and bounce back from the Smaug number. One challenge is that, while Smaug didn't face much in the way of direct competition in the weeks following release, Five Armies has Ridley Scott's Exodus arriving on Boxing Day, a film that should compete for the adult segment of the Hobbit audience.
The festive family battle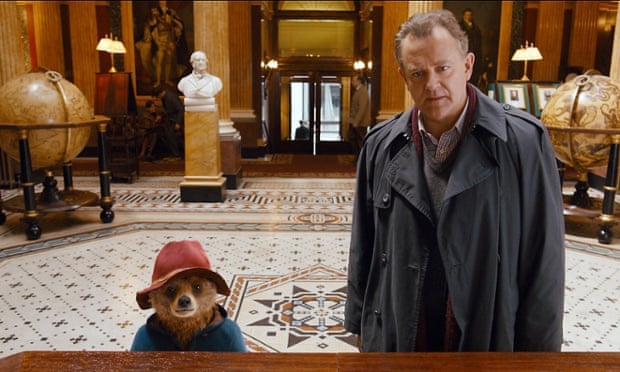 With Christmas just over a week away, there are now five family films battling for audience attention in the Top 10. All the holdover titles – Paddington, Penguins of Madagascar, Get Santa and Nativity 3: Dude, Where's My Donkey?! – achieved strong holds, dropping respectively by 24%, 34%, 22% and 16%. If families plan eventually to see all four of these films, they might prioritise the two with a strong Christmas hook, as they will both feel like stale leftovers after Christmas Day. So the next eight days are all absolutely crucial for both Get Santa and Nativity 3. New entrant Tinker Bell and the Legend of the NeverBeast is the fifth family title in the Top 10, landing in seventh place. This Friday, they all face further competition from Night at the Museum: Secret of the Tomb.
Read More…